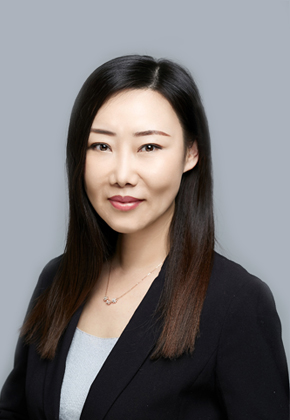 Cao, HuanManaging Partner, Patent Attorney
Education

Hydraulic controls, M.S.
Detection Technology, B.S.

Language
Technical field

Mechanical Materials, Telecommunications
Career

Ms. Cao graduated from the University of Saskatchewan, majoring in Hydraulic controls. She began to work in the IP field in 2006. Before joining our firm, she worked as a patent agent in a well-known IP firm where she was mainly responsible for patent reexamination and invalidation.
Ms. Cao is committed to solving intellectual property problems, she is experienced in internal and external patent applications, drafting patent applications, patent translation, responding to Office Actions, and patent reexamination and invalidation. Ms. Cao specializes in mechanical engineering, mechatronics, automotive engineering, electrical and electronic engineering, household appliances and semiconductor device fabrication. She is familiar with domestic and foreign patent application and examination, IP-related regulations and practices, especially good at handling cases entering Europe, America, Canada, and Australia, etc.

Social Activities

Editor of "foreign patent practice (U.S.)"